So much time has passed since my last blog entry – the days are beginning to blur together and I am afraid that before too long this whole adventure will be like a dream that has happened to someone else. Today, in Comox, the kids will be going back to school. I remember this day very well, thinking 2 weeks off at Christmas was never enough – always too much going on and not enough rest. I also remember going back to work in January to begin planning for the next school year – almost like doing two jobs at once. In September I missed returning to school. I will not miss returning tomorrow.
When last I wrote we were heading back up to Isla Espiritu Santo to enjoy Christmas week in the beautiful anchorages to be found there. Yes, they were beautiful but, unfortunately, we were not to experience the same calm conditions we had in San Gabriel a week earlier. After fueling
Ka'sala
at Marina Palmira, we motored in calm conditions to Ensenada de la Raza. The guidebook had indicated that this would be a good bay to sit out the northerlies that were forecasted to begin in a couple days. We had the bay to ourselves that afternoon and went for a swim in the clear water. However, we hadn't counted on the coromuel winds and, that night, we hobby-horsed and rocked in the seas these southerly winds kick up. It wasn't all bad, though, for that night was a total eclipse of the moon. We set our alarm and were up in the cockpit watching the entire transition. The sky was remarkably clear and it was an eerie sensation to see all the glowing landscape fade into star shadows. Through the binoculars we could see the moon pulsing behind the shadow, but could not hear any wolves howling!
Moon Rise December 21 at Isla Espiritu Santo (Doug's photo)
Moon Set, December 22
Next morning we talked to Steve on the radio and he enticed us to join him at Bahia El Cardoncito, a little farther up at Isla Partida.
Remote El Cardoncito
Silas Crosby
and
On Verra
, with Alicia and Alfredo aboard. They had just returned from a hike into the canyon at the head of the bay. We decided to go for a swim. Doug donned his mask and snorkel to check out the colourful fish and I headed for the tiny white sand beach.
The water is so salty that it takes very little effort to float. I rolled onto my back and watched the pelicans and gulls soaring through the clear blue sky, feeling the heat of the sun on my face and the warm, gentle grasp of the water keeping me buoyant. The beach looked very inviting and I slowly paddled toward it, keeping prone as long as I could. I kept an eye out for puffer fish, urchins, rocks and stingrays, knowing that I was vulnerable in my bare feet. As I rose out of the water and wandered into the shallows my sleepy reverie was rudely and dramatically cut short by what felt like a powerful snake strike on the side my heel and ankle. I yelped, jumped high into the air and crashed back into the water.
Tiny beach at El Cardoncito
What happened? Thoughts whirled and rushed around my head. Was I struck by something poisonous? I had been watching where I placed my feet, but I hadn't seen anything. Was I going to die? What should I do? Head back to the boat? Lie on the beach? Try to still my heart? Create some kind of tourniquet (with what? my bathing suit?) Try to figure out a way to suck out venom? Call for help? Doug was swimming and I couldn't see anyone around. I quickly glanced at my foot and all I could make out was a little slit that was starting to hurt. I figured I must have been stung by a stingray, but I hadn't seen it or felt it. In the end, I did what most animals do when they are hurt – I wanted my home – so I headed back for the boat.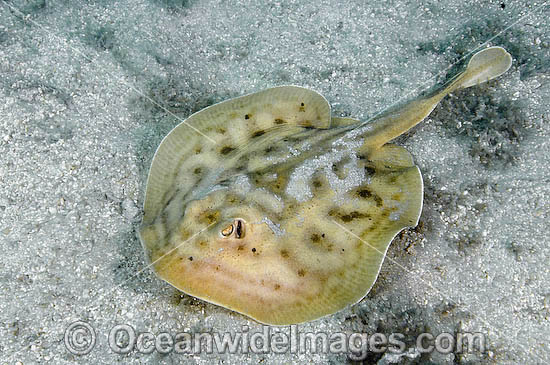 Round Stingray - the likely culprit
My foot started to ache more as I paddled along and I was closely monitoring my heart rate and energy level. I looked up and saw Steve watching from a ledge on the cliff side of the bay. I figured he must have heard me yell, so I waved at him, and continued on. I saw Doug heading back to
Ka'sala
so I called out to him and he came to me and helped me back to the boat. By now I was really scared and I was crying – at this point, mostly because I didn't know what was going to happen and I knew we were far away from a hospital. I climbed into the cockpit, laid down in the cockpit and then the hurting began in earnest.
barb from a round stingray - pretty ugly, eh?
No longer did I worry if I would die, I could only totally experience the agonizing waves of pain as they rolled over me. I grit my teeth and clenched my fists, my body rigid as I rode them through. My eyes were shut so tight the tears had to squirt out and I could hear myself groaning deep in my throat. Did I have control over any of this? Not a chance. In the tiny lulls I could see how distressed Doug was – he also didn't know what would happen. I tried as hard as I could to relax, but the pain would double me up into spasms again. Meanwhile, Steve (a medical doctor) had scrambled down the canyon and was aboard. He checked my vitals and discovered I wasn't in shock and my heart rate seemed good. I wasn't going to die, though the pain had me fooled. He went to
Silas Crosby
to get his blood pressure cuff and some codeine for the pain. Doug was doing everything he could to try to get me comfortable, propping up my foot, putting it on cushions, holding my hand and saying comforting things. We had no ice, but we did have a cold pack and that seemed to give me some momentary relief. I took 2 222's for pain and 2 Benedryls for swelling, but nothing seemed to work. (Later, when we were able to do some internet research, we discovered we should have placed my heel in water as hot as I could stand as stingray venom is often neutralized by scalding water.) After a while I was able to move down into my bunk where the unbearable pain continued. Poor Doug, at the end of his rope, mixed me up a killer marguerita which I tossed down and followed with another. Miracle of miracles, the pain seemed to evaporate completely, to be replaced with a dull throb, and I fell fast asleep. Two hours had passed since my initial sting.
Out of focus, but you get the idea - stingray sting 24 hours later
10 days later after a minor infection
That night the wind picked up from the south again and we were tossed around in our enclosed anchorage, completely open to the wind and waves flowing in from the south-southwest. It was an unsettled night.
Rough morning after a coromuel
The next morning
Silas Crosby
left for Isla San Francisco further to the north. It was likely the last time we would see the adventurer and his boat for a very long time. Steve's plan was to stay in the La Paz area until his niece and brother rejoined him before continuing on to South America and eventually around the Horn. We were sorry to see him go as we had so many great times with
Silas Crosby
on our four month journey down the western coast, but we wished him well. We were left alone in the anchorage and spent a quiet day. My sting seemed benign – no pain, no infection, just a white slit up the side of my heel.
On the day before Christmas Eve, I felt well enough to go for a walk and we dinghied to shore. This time we both wore our wet suit booties, though we have since read that a stingray can penetrate even rubber!
Welcome sign
Heading into the arroyo
Canyon climbing
El Cardonel - old fishworks in the upper left
Ka'sala
in the bay. We were amazed to find many seashells on the high ground that looked fossilized. Maybe they were. I brought one home for posterity
Unusual geological formations at the summit
We had been joined in the bay by
Bamboleiro
, a Ranger 33 crewed by Cristina and Carl, a young couple from the San Francisco area, though Cristina hailed from Barcelona, Spain and Carl from Kirkland, Washington. They had met while learning to speak German in Vienna, Austria, and had been together for a number of years since. We met them as they were climbing up the arroyo and invited them back for a cold one after their walk. Like us, this was their first sailing cruise and they had left San Francisco in late October.
Cristina and Carl (lifted from their excellent blog:
http://www.banboleirosailing.com/
)
That night it was windy again, but this time it came from the north, funneling down through the arroyo making Ka'sala dance on her anchor. The northerly continued to blow all the next day and both boats stayed hunkered down in the anchorage, nervously thinking about our anchors. We were in 8 meters and had 45 meters of chain out. When we dropped the hook (the third time in this bay) we made sure it was well and truly stuck, so we weren't really worried, but the noise and movement really began to fray my nerves.
Caves dotted the cliffs surrounding the anchorage - this crane stayed tucked in all day out of the wind
Luckily, Christmas Day was relatively calm and we invited Cristina and Carl to join us for dinner. They promised some fish, so spent part of the day on the reef, and joined us later with fresh fried aqua appetizers. A kayaker, named Jeff, appeared in the anchorage. He had met Cristina and Carl a week earlier and was just catching up with them again. From Pittsburg, Pennsylvania, he had driven his Subaru, with his fine wooden kayak on his roof, to paddle in Arizona. Too cold, so he continued down the Baja.
Jeff - in a picture from his website:
http://www.nomad-unlimited.com/
)
We were happy to have him join us for Christmas dinner as well and the five of us were able to put together a feast. No turkey, no cranberries and stuffing. No Christmas tree or mistletoe. It was strange. But we made up for it by telling each other our Christmas traditions and memories and toasting our friends and loved ones. All of us had the people in our hearts with us at that small celebration.
Carl and Cristina were very generous. In addition to the fresh-caught fish, they also brought a very special bottle of red wine from Barcelona which we thoroughly enjoyed with our grilled steak. They also brought several movies on DVD for us to watch, then pass on to other cruisers. If that wasn't enough, Cristina, with a wicked sparkle in her eyes, brought out two decks of cards. One was a regular deck of cards, the other a Spanish deck. I had never seen anything like it before.
It looked a lot like tarot cards, but had four suits of 40 cards – clubs, cups, coins and swords. There were no queens, though Cristina said, with that naughty twinkle, the card with the guy in the short skirt could be refered to as one! (#10) She taught us how to play "Escoba" or "Sweep" and beat the pants off us! In fact, she and Carl had to form a team in order for Jeff, Doug and I to even be in the running! It was a lot of fun and a wonderful opportunity for Doug and I to share the adventures of these very talented young people.
Doug and I managed to exchange gifts too. While in La Paz I had found an English book store (Allende's) and bought him
Spanish for Cruisers
. Doug has been practicing his Spanish most days and is getting very good at it now. He has a natural affinity for languages, no doubt, though he tells me it's easier for him because he speaks French. I'm not so sure.
Doug surprised me with a lovely Mexican silver bracelet that he bought at an artisan shop in La Paz. I absolutely adore its geometric design and how lovely it lays on my wrist. I want to wear it all the time, but it isn't practical to wear it while sailing, so I slip it on when we are lounging on the boat or going out.
By Boxing Day we had had enough of rocky, rolly anchorages and decided to continue on to Mazatlan. At first light we hoisted the anchor and headed out, expecting some of that north wind, but found ourselves head first into a south wind and a building 2 foot chop. Not nice. However, once we had transited the Lorenzo Channel, it died and we were left in calm to motor through Cerralvo Channel and set our course for 95 degrees and Mazatlan. It took us two days and nights to reach the mainland, most of which was in light winds and seas. Under power, we managed to get some buoyancy from our mainsail, as the slight wind was coming from our portside beam. We were relieved to shut down the Iron Jenny on three different occasions to enjoy several hours of sailing in 10 knot winds. We averaged 5 knots and arrived at Marina Mazatlan about 10 a.m. on December 28. We saw very little wildlife on this passage, but were fascinated our first night out by the sight of dolphins playing on our bow wave illuminated by phosphorescence. They looked like giant contrails from TinkerBell's wand. Our 28th wedding anniversary, on December 27, passed by as we exchanged watches for kisses. We promised each other we would celebrate when we reached Mazatlan.